Call us today at 1-888-304-4367 for assistance!
Click here for available models.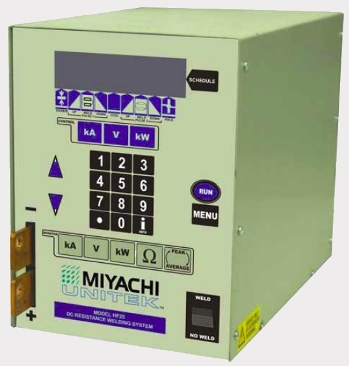 The Miyachi Unitek welder is certainly a capable brand of welder. However it is also one of the most expensive brands a company can buy. Picking a brand of welder is an investment in the customer service, quality, and lead times of the manufacturer and distributer. Advanced Integrated Technologies ( AIT ) is not a distributer for Miyachi Unitek, although we have and do continue to build electrode and thermodes for them as a wholesale supplier. At AIT, we have chosen the Nippon Avionics ( AVIO ) line of equipment because we feel that you get more advanced technology, quality, and precision for your money than with other popular brands. Avio builds fine welders that are equal in performance to the Miyachi line, and not as expensive typically. We can provide the equipment you need at an economical price, and assist with any technical issues you encounter setting up your welding process. Submit a contact form or call us today to request assistance with your next project.
Advanced Integrated Technologies Inc ( AIT ) manufactures electrodes and hot bar tools for all styles and models of the Miyachi Unitek Welder, as well as Palomar/Hughes, MacGregor, Avio, and many other styles of welders. AIT offers very affordable equivalent versions of all the thermodes and resistance welding electrodes currently available through Unitek, which are fully compatible with Miyachi Unitek Welder heads and thermode heads. See the soldering thermodes and welding electrodes links for an overview of our product line. Over 50% of our business is designing and building custom tools for customers' unique applications. Contact us today for details.

Many customers feel that once they acquire the welding/soldering equipment, they must continue to source hot bars from the original equipment supplier. This is simply not the case, and is often a very costly mistake. AIT produces all styles of electrodes, resistance soldering tools, and hot bars for Miyachi Unitek Welders as well as other brands, and has at various times been their wholesale manufacturer for these tools. In many cases we can save you thousands of dollars in consumable tooling costs. AIT manufactures our own versions of the Unitip and Unibond tool designs as well as the 17TD three dimensional thermode, the 17F Multiple Lead Fold-up Thermode, the 17BW Multiple Lead Wide Blade Thermode, the 17B Multiple Lead Blade Thermode, and the 17P Single Point Peg Tip Thermode. Many of these designs were originally refined by Advanced Integrated Technologies Inc. We use different names for them, but they are the same basic designs, and are fully compatible with Miyachi Unitek Welder. You will find these on our website.

Advanced Integrated Technologies Inc ( AIT ) has a standard product line, but is not limited to this. Over 50% of our business is designing and building custom tools for customers' unique applications. Our combination of manufacturing experience and efficiency allow us to build affordable tools for all Hughes, Sunstone, and Miyachi Unitek Welders.