High quality Ultrasonic Welding Supplies and Accessories


Lower prices on equipment and electrodes than other manufacturers


Shorter lead time, especially on electrodes


Free test welds and unparalleled customer support
binäre optionen broker betrug How We Can Help You
Advanced Integrated Technologies ( AIT ) is a welding equipment and technical support provider for Nippon Avionics ( Avio ) brand of ultrasonic welders and accessories. We can evaluate your product samples, provide free test welds, and accurately specify which equipment is best for your application. We can then provide the equipment you need at an economical price, and assist with any technical issues you encounter setting up your welding process.

Submit a contact form or call us today

to request assistance with your next project.
Introduction to Ultrasonic Welding
Principles of Ultrasonic Metal Joining
Unlike resistance welding, ultrasonic welder horn oscillator vibration removes oxide film on the metal surface and scatters surface layer impurities in order to create a state of solid-phase welding by bonding metal atoms.
tradebinario Advantages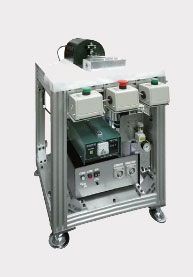 •
Reduces damage and provides efficient energy use because of low welding temperatures (less than approx. 50% of the melting point)
•
Suitable for connection of thin metal foil such as aluminum foil or thin copper foil
. Also suitable for connection of copper wires.
•
Reduces electrical resistance and provides joints with good electrical conductivity
•
No special surface treatment required
•
No consumables such as solder are required. Eco-Friendly while reducing costs
•
Space-saving, easy to introduce automation
•
Permits dissimilar metal
joints, e.g., joining aluminum to copper
binäre optionen handeln schweiz AVIO Ultrasonic Welders
•
Ultrasonic Welders
use Ultrasonic Energy to perform various bonding & cutting functions such as resin welding, resin seat cutting, resin cutting, and metal joining. The basic components of Ultrasonic Welding Systems consist of an Ultrasonic Oscillator Unit and a Welder Main Unit (Press).
•
Products offered include a wide range of output models from a compact 40W unit to the world's highest in class 8,000W unit to meet customer needs.
These products are manufactured by Nippon Future Co. Ltd. (a wholly-owned subsidiary of Nippon Avionics Co., Ltd.).
trading binario tendente al rialzo e al ribasso Features of Ultrasonic Welding
•
Fast welding - For most applications
,
welding times are short allowing increased production
•
Stable production - Setting conditions may be stored for future use ensuring consistent welds among
production cycles
•
Quiet performance - Non-audible frequency range is used for most products
•
Air-tight seals – Selecting proper horns for each product accomplishes an air-tight weld
•
Environmentally friendly - No adhesive chemicals are used during the manufacturing process that
compromise security and recyclability
•
Saves money - Shorter weld times significantly reduces manufacturing cost
operazioni trading binarie da 1 euro Wide Selection of Ultrasonic Horns مهام تصميم مواقع الإنترنت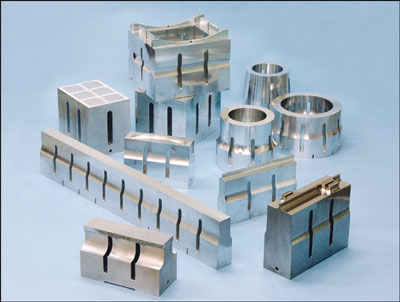 Ultrasonic horns incorporate a half-wavelength resonator cavity which efficiently transmits vibration energy. Horn materials include aluminum alloy, titanium alloy, and die steel depending on the welding purpose.
We offer horns that best suit your particular work. We also design and manufacture clamping jigs.
opciones binarias estrategias video Applications of Ultrasonic Welding
binära optioner sverige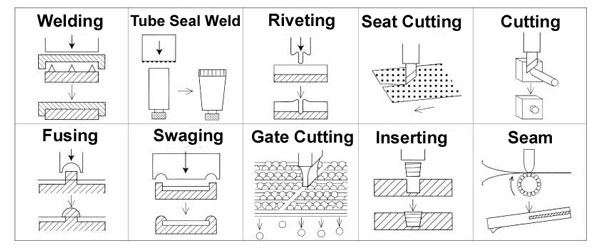 http://webdesignhat.com/tag/python/feed auto opzioni binarie milano finanza Examples of Ultrasonically Welded Parts

Maximum Output 8,000W – World's Highest Performance in Its Class!
Includes Color LCD Display and Simple-to-Use Touch Panel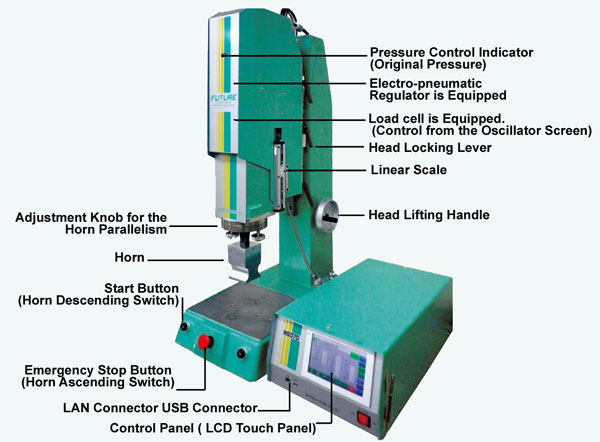 W5000 series ultrasonic plastic welders allow control of welding parameters (welding time, welding displacement, welding energy, & welding data output). A color LCD touch screen front panel provides user friendly and intuitive operation.
Welding parameter data used for controlling can be output to a network environment (LAN) or saved to a USB storage device during operation. This easily accessed parameter data history is valuable for quality control.
Color LCD display of main weld parameter waveforms is beneficial for better on-site management and analysis of the welding process.
my binary options Wide Range of Welding Management Functions
•
Welding energy control and managemen
t – Maintains welding energy constant and monitors the upper and lower limits of the weld head displacement
•
Welding process control and management
- Holds and monitors the melting depth (DEPTH) and finished dimensions
(
HEIGHT)
•
Management and recording of set up & welding data
– Records and timestamps each welding parameter. Supports USB storage devices and connection to a network environment (LAN).
•
Control and manage welding time
- Delay, Oscillation period, Retention time (cooling time)
•
Display of power
- Displays the peak power reached during welding
•
Display and record welding waveform
- Frequency, air pressure, applied current, displacement of welding head, actual applied pressure and energy can be displayed and recorded
•
Spherical seat parallelism adjustment
•
Load cell pressure measurement and management
•
1
μm
resolution welding management
•
Electro-pneumatic regulator pressure control
Basic Desktop Model of Ultrasonic Plastic Welder with Small-Footprint
Operation / setup iseasy. Changing horn height will not change the oscillator timing as the weld head is equipped with a pressure trigger. No adjustment required.
Standard equipment on this product includes: Frequency Monitor, Amplitude Adjustment mechanism and an External Ultrasonic Output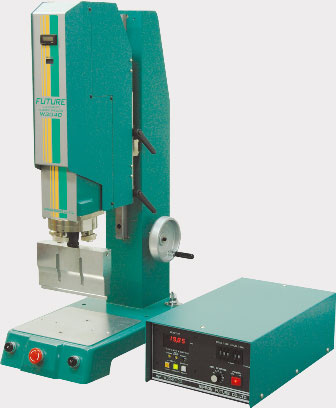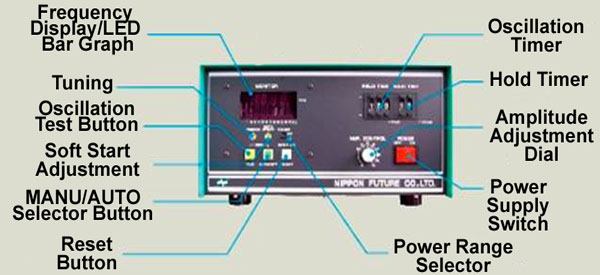 Easy-to-see display of 12-step power switching.

Work piece stresses are reduced by adjusting oscillator startingpoint (Adjustable soft-start)

Oscillator amplitude is continuously variable between 0-100% toeasily select the optimum weld condition.
Automatic Welding Process Controller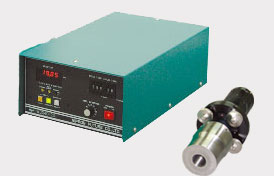 •

Horn spherical seat leveling adjustment function is also available.
Ultrasonic Welder W3000 Series - Large Type
•

A rigid press structure for welding large items
•

Provides wide area welds using super-sized horns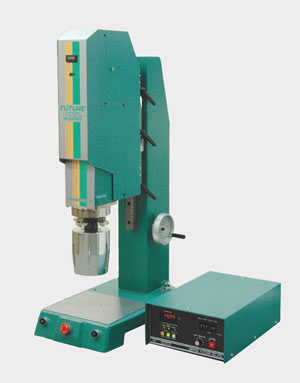 W3000 Series Ultrasonic Welders

W3040
W3050
W3070
W3080

W3085
W3095
W3155
W3185

Output Power

1200W

1600W

2000W

2400W

2400W

3000W

5000W

8000W

Frequency

20kHz

15kHz

Power Source

3Φ AC200 V ± 5% 50/60Hz

Oscillation Method

Frequency Automatic Tracking System (ATHMOS)

Oscillator
Amplitude Adjustment

Variable (0-100%, 1% step)

Soft Start

Variable (40-200ms)

Dimension WxDxH (mm)

295x500x180

325x500x180

325x500x385

Weight

~10kg

~12kg

~15kg

~30kg

Main Unit of Welder
Pressure Method

Air Cylinder

Minimum Pressure

120N

170N

Maximum Pressure

1500N

2500N

5000N

7000N



Parallelism

Spherical Seat-Style Support Flange

Compressed Air Supply Required

Clean Air (0.06-0.5 MPa)

Head Stroke

315mm

Custom-Designed

Horn Stroke

70mm (dia. 63mm Air Cylinder)

95mm (dia. 80mm Air Cylinder)

Custom-Designed

Dimension

WxDxH (mm)

320x550x1215

380x610x1335

Custom-Designed

Weight

~52kg

~88kg

Custom-Designed
Ultrasonic Hand Welder W2005-28/40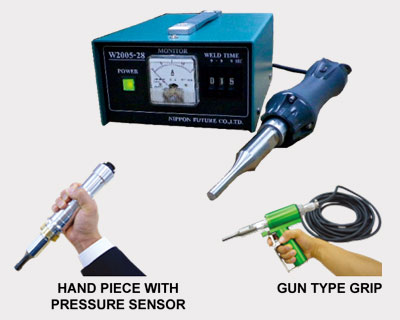 Hand-held 250W ultrasonic welder

•

Wide range of applications from prototype to mass production
Ultrasonic Spot Welder W1002-60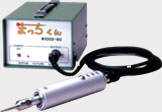 Compact and lightweight ultrasonic spot welder

Ideal for basting before sewing, small boss ratio caulking, and riveting.
Ultrasonic Small Welder Models W3011 - W3015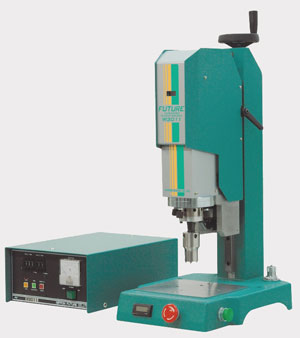 Compact ultrasonic welder 500W - 800W

Units for automation are also available.
Ultrasonic Vibrator Unit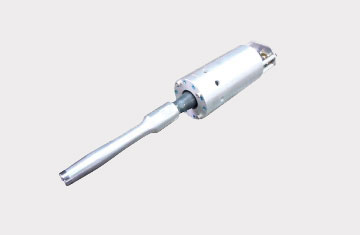 Serves a wide range of applications when used in automation

.
Compact Welder Series

W2005
W1002
W3011
W3012
W3013
W3014
W3015
Output Power

250W

40W

500W

800W

500W

Frequency

28kHz. 40kHz

60kHz

20kHz, 27kHz, 28kHz, 39kHz, 50kHz

27kHz, 39KHz

20kHz, 27kHz, 28kHz, 39kHz, 50kHz

Power Source

AC100V+/- 5% 50/60 Hz

1 Φ AC200 V

AC100V+/- 5% 50/60 Hz

Oscillator
Amplitude Adjustment

0-100% with External Variable Transformer

0-100% with External Variable Transformer

50-100% (5 Steps)

0-100% with External Variable Transformer

0-100%(Continuously)

Dimensions WxDxH (mm)

164x242x105

123x170x88

254x365x146

254x415x146

Weight

~2kg

~1kg

~6kg

~7kg

Main Unit of Welder
Pressure Method

Hand Held

Air Cylinder

Maximum Pressure

100N (10kgf)

250N

Compressed Air Supply

-

-

Clean Air (0.06-0.5 MPa)

Horn Stroke

-

-

75mm (dia. 25mm Air Cylinder)

Dimension

dia.36-52 x 275mm

dia. 31x159mm

320x380x710

Weight

~450g

~200g

~30kg
Ultrasonic Cutter W1003-40
Compact hand-held type ultrasonic cutter.

Permits cutting of paper and resin, and "gate cutting".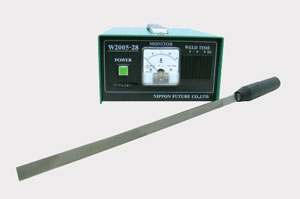 Cleanly cut various confections such as cakes, sponge cakes, pies, candies, and various food types including vegetables, meat and fish.

Solves unsightly appearance problems

Eliminates dependence on skilled workers.
W1003
Output Power
40W
Frequency
40kHz
Power Source
AC100V+/- 5% 50/60 Hz
Oscillator
Dimension WxDxH (mm)
39x200x186
Weight
~1kg
Main Unit of Welder
Maximum Pressure
50N (5kgf)
Dimension
dia.24x200mm
Weight
Approx.200g
Ultrasonic Clear File Welder

(Ultrasonic Direct Welding)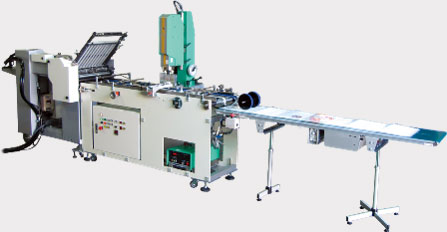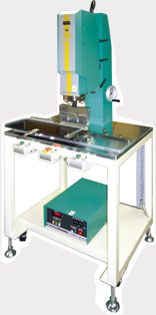 Simple Press Unit for Handy
Welder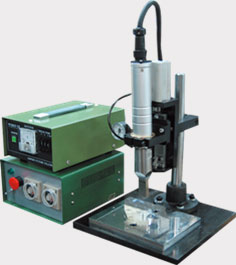 Multi-Type Ultrasonic Welder for Long Objects
(Ultrasonic Direct Welding)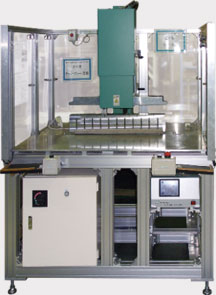 Multi-head Ultrasonic Welder
(
Ultrasonic
T
ransmit
W
elding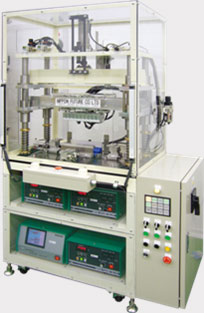 On Demand Sealer
(Ultrasonic Seam Welding)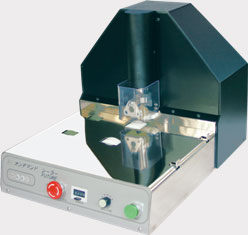 Mesh Ultrasonic Melt Cutting Equipment
(Ultrasonic Melt Cutting)

Multi-point Fusing Equipment for Automobiles
(Ultrasonic Boss Fusing)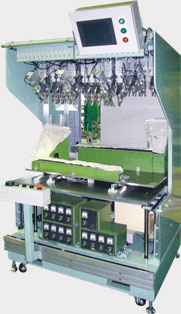 XYZ-Direct Robot-type Caulking Equipment (Ultrasonic Fusing /Insert)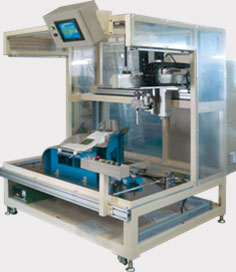 Bolt Nut Insert Equipment
(High-frequency Induction Heating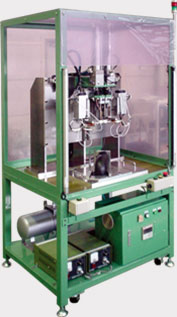 High-frequency Induction Heating Equipment
Metal Materials such as Screws or Nuts are easily Inserted into Molded Plastic Components!
Induction heating units incorporate high frequency generators for non-contact heating of metal using electromagnetic induction.
Induction heated metal screws and nuts can be easily and securely inserted into molded plastic components.
Unlike heater-method equipment, induction heating quickly heats both magnetic and non-magnetic materials. No pre-heating is required which contributes to reduced power consumption and prevents deterioration of metal parts.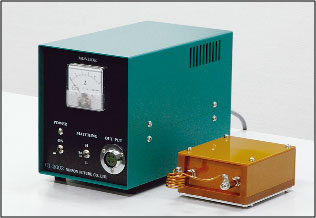 Various Induction Coils
We offer a wide variety of coils to suit your applications.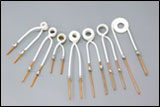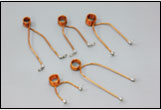 Induction Insert samples