Avio Displacement Pulse Heat Power Supply
Ultimate Pulse Heat Controller with Concurrency Control of Temperature and Displacement!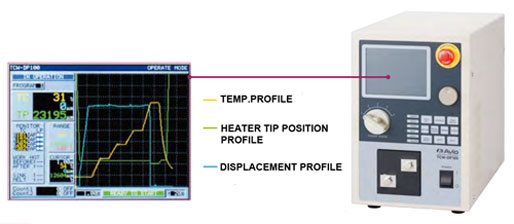 Avio TCW-DP100 Displacement Technology
High Precision Displacement Control: Overtravelling amount is controlled by feedback of displacement amount in 1μm resolution, and uniform melting amount can be realized.
Wide Variety of Monitoring Functions (Temperature, Displacement)
Digital Temperature Control: High speed and highly accurate temperature control is realized by the digital PID control method, making the unit suitable for fine wires and micro-miniature works.
Release Function: After heating, the solder thickness between the works can be secured.
Four Stage Heating: Various temperature profiles are realized to cope with the diversified applications
Built-in Motor Control Function
User Interface: RS-232C&I/O is standard equipped making the unit easy to interface with the external equipment such as the case of incorporating in an automated system.
Melting Amounts Control
Micro Co-axial Cable
No Spread Wire (Damage Reduction)
No Solder Bridge

Joining Gap Control
Solar Panel Module
Enhancement of Joining Strength
Reduction of Residual Stress

*Reflow head motor drive unitl Model NA-201P is required for use with Model TCW-DP100.*
Features
TCW-DP100
Heating Temperature

Room temp~600°C in 1°C step, E type/ J type (option)

Room temp~900°C, K type (option)

Heating Time

0.00-99.99 seconds

Rated Capacity

750 VA, 50% duty cycle

Heating Steps

4 Steps

Monitor

Sink Amount, Temperature, Work Height

Motor Resolution
1 μm/pulse
Displacement Resolution
1μm
Interface

RS-232C, I/O

Transformer

Built-In

Tap Voltage

0.88 V, 1.24 V, 1.75 V, 2.47 V, 3.5 V

Power Source
AC 200-240 V±10%, 1Φ, 50/60 Hz, 15 A
Dimension (mm)

220x400x320

Weight

23kg