Hughes Welder
Although the Hughes Welder has not been manufactured for several years now, Advanced Integrated Technologies Inc ( AIT ) still supplies
electrodes
 and new replacement welders for the obsolete Hughes Welder designs. Today we distribute and recommend the
Avio welder
and the
Sunstone Welder
, both of which are excellent replacements for the obsolete Hughes Welder.
Request a quote
from us today on a
welder
,
electrodes
, or any other items you may need related to micro welding or soldering. Our customer support team is standing by.
Advanced Integrated Technologies Inc ( AIT ) has been building electrodes and hot bar thermodes for all styles and models of the Hughes Welder, as well as all other brands of welders and hot bar bonding machines, since 1982. Our product line includes many standard designs of parallel gap and opposed electrodes. We also manufacture many designs of hot bar and fold up thermodes for reflow soldering and heat seal bonding. AIT's products are top quality and very economical by comparison to those of original equipment manufacturers. Much of our business involves custom design and manufacturing of electrodes and thermodes for customers requiring special applications. If you are running the Hughes Welder or any other welding or soldering equipment, call us today for more information.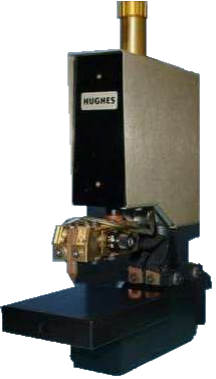 The concept for using welding technology for interconnection of electronic connections was first proposed by a Hughes' Aircraft research scientist in 1954. Hughes Aircraft went on to develop and manufacture the Hughes Welder under the Hughes Technology Products Division of the Hughes Industrial Electronics Group in Carlsbad, California.

Advanced Integrated Technologies Inc came on the micro welding scene in about 1982. Hughes was developing a microparallel gap welding tool called a duo tip. They were unable to get these micro tools successfully built anywhere in California. Paul Balentine, founder of AIT, successfully built the micro tools by grinding them on a lathe fitted with a tool post grinder. Later when he had secured the contract he built a specialized grinding station with a camera and overlay system to control the grinding process. AIT was the first to build these micro parallel gap welding electrodes for the Hughes Welder, and continues to be the industry leader today.

In the 1970's, Palomar Technologies was established within the Assembly and Test Products line of Hughes Aircraft Industrial Products Division. For a while the Hughes Welder was often called the Palomar Hughes Welder. Eventually through a series of mergers and acquisitions, the core Hughes Welder technology was absorbed into the Unitek Miyachi product line which still operates today. Advanced Integrated Technologies Inc ( AIT ) supplies resistance welding electrodes and reflow solder tips for Unitek Miyachi welders and reflow soldering machines. There are however many Hughes and Palomar Hughes Welders still in use today, which is why AIT is the largest and most well known supplier of tools for these machines.

Advanced Integrated Technologies Inc ( AIT ) has a standard product line, but is not limited to that product line alone. Over 50% of our business is designing and building custom tools for customers' unique applications. Our combination of manufacturing experience and efficiency allow us to build affordable tools for the Hughes Welder and Unitek style welders and soldering machines.