Seam Welder
The purpose of a Seam Welder is to use pressure and electricity to seal a metal lid to a package in a vacuum, or nitrous environment, creating a sealed package with components inside. This protects the inside components from the environmental elements that would lead to degredation of the component, therefore extending the life and durability of the package device in a process known as "Hermetic Sealing." The package is vacuum sealed, the lid is Tack welded to the package, then roller electrodes roll along and weld the X and Y sides of the lid to the package creating a rim that looks like a seam in sewing, hence the name "Seam Welder". Seam Welders are used on packages that contain anything from crystal devices and MEMS to sensors and optical devices. Vacuum Seam Welding has become more prominent with the miniturization of many technical components, as well as the need for higher performance.
How We Can Help You
Advanced Integrated Technologies ( AIT ) is a welding equipment and technical support provider for
Nippon Avionics ( Avio )
brand of Seam Welders and accessories..  We can evaluate your product samples, provide free test welds, and accurately specify which equipment is best for your application.  We can then provide the equipment you need at an economical price, and assist with any technical issues you encounter setting up your welding process. 
Submit a contact form or call us today
to request assistance with your next project.
Fully Automatic N2 Gas Type
Features
Fastest Cycle Time 1.5s & High Availability
Minimum PKG Size 2016
High Reliability Sealing
High Performance Sealing Head & PS
Easy Maintenance & Product Shift
Large Capacity & High Accuracy
High Speed with Less Damage
Seam Welding
Tack Welding
Vacuum Oven Chamber: Rotary, Dry, Turbo, Cryo pumps
Lids Supply
Dedicated Trays
High Performance Sealing Head
Dedicated Power Supply
Glove Box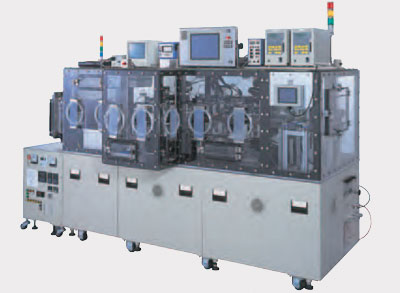 | | |
| --- | --- |
| Power Source:Main Body | AC200V 3Φ 20A |
| Power Source:Chamber | AC200V 3Φ 30A |
| Air | 0.5MPa |
| N2 Gas | 0.2MPa |
| Water | 0.5MPa |
| Dimensions | 2970W x 1320D x 1870H mm |
| Mass | 1,800kg |
Semi-Automatic N2 Gas Type
Features
Various Operation modes available for R&D and mass production.
PKG size 2~150mm - Rectangular, Round, Polygon
Easy Operation & Programming
Automatic Program Verification
Single Head Type
Vacuum Oven Chamber: Rotary, Dry, Turbo, Cryo pumps
Glove Box
Production Modes: Fast, Standard, Teaching
High Performance Sealing Head
Dedicated Power Supply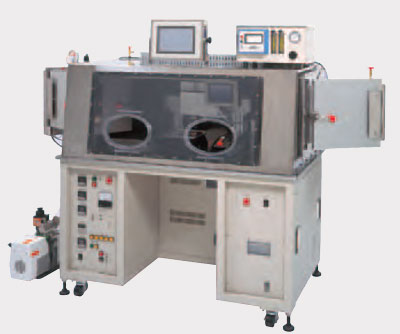 | | |
| --- | --- |
| Power Source | AC200V 3Φ 20A |
| N2 Gas | 0.2MPa~0.8MPa |
| Water | 0.2MPa |
| Dimensions | 2200W x 900D x 1550Hmm |
| Mass | 450Kg |
Features
Various Operation modes available for R&D and mass production.
PKG size 2~150mm - Rectangular, Round, Polygon
Easy Operation & Programming
Automatic Program Verification
Single Head Type
Vacuum Oven Chamber: Rotary, Dry, Turbo, Cryo pumps
Glove Box
Production Modes: Fast, Standard, Teaching
High Performance Sealing Head
Dedicated Power Supply
Automatic Program Verification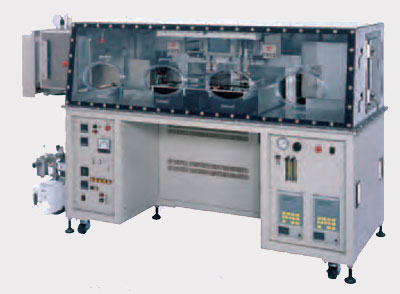 | | |
| --- | --- |
| Power Source | AC200V 3Φ 30A |
| N2 Gas | AC200V 3Φ 30A |
| Water | 0.2MPa |
| Dimensions | 2300W x 800D x 1300Hmm |
| Mass | 550Kg |
Fully Automatic Vacuum Type
Features

Fastest Cycle Time 1.5s & High Availability
Minimum PKG Size 2016
High Reliability Sealing
High Performance Sealing Head & PS
Easy Maintenance & Product Shift
Large Capacity & High Accuracy
High Speed with Less Damage
Seam Welding
Tack Welding
Vacuum Oven Chamber: Rotary, Dry, Turbo, Cryo pumps
Lids Supply
Dedicated Trays
High Performance Sealing Head
Dedicated Power Supply
Glove Box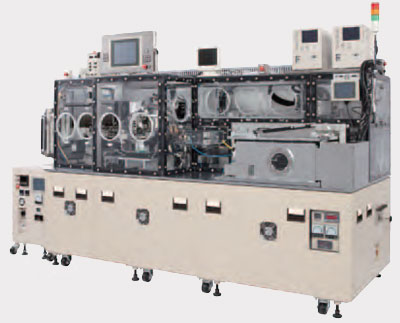 | | |
| --- | --- |
| Power Source:Main Body | AC200V 3Φ 40A |
| Power Source:Chamber | AC200V 3Φ 30A |
| Air | 0.5MPa |
| N2 Gas | 0.2MPa |
| Water | 0.5MPa |
| Dimensions | 3950W x 1320D x 1870H mm |
| Mass | 2,045kg |
Semi-Automatic Vacuum Type
Features

Various operation modes available for R&D and mass production.
PKG size 2~150mm - Rectangular,round,polygon
Easy Operation & Programming
Automatic Program Verification
Vacuum Oven Chamber: Rotary, Dry, Turbo, Cryo pumps
Glove Box
Production Modes: Fast, Standard, Teaching
High Performance Sealing Head
Dedicated Power Supply
Seam Welding Chamber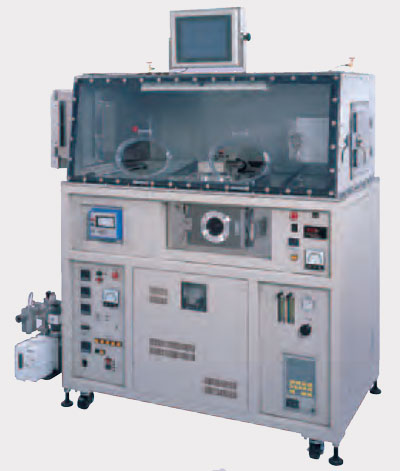 | | |
| --- | --- |
| Power Source | AC200V 30A |
| N2 Gas | 0.2-0.8 MPa |
| Water | 0.2MPa |
| Air | 0.5MPa |
| Dimensions | 2000w x 900D x 19000Hmm |
| Mass | 550kg |
Dedicated Tack Welder NAW-1246
Optimum solution to products and volume of productions
Lids Supply
Cassette
Parts Feeder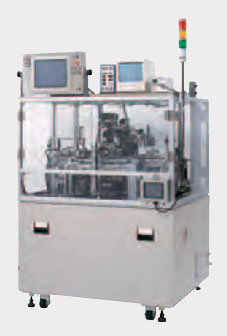 | | |
| --- | --- |
| Power Source:Body | AC200V 1Φ 20A |
| Air | 5kgf/cm² |
| Dimensions | 1200Wx1000Dx1870H mm |
| Mass | 400kg |