Reflow Soldering Thermodes
Providing you with standard and custom thermode (hot bar) designs matching your equipment and your application.
Shorter lead time.
Lower prices than the company that manufactured your bonding equipment.
Our quality is guaranteed
We do custom thermodes all the time.
Pulse Heat Hot-bar Soldering
Scroll down to browse our selection and review our 
cross referrence chart.
Click these images to see product drawings and request a quote.
Advanced Integrated Technologies Inc ( AIT ) manufactures resistance reflow soldering thermodes (hot-bars) for all available equipment at very affordable prices. AIT also is able to take your application (samples of your product) and develope a soldering/bonding system and process with all necessary tooling to run your product, at a price far below that of our competitors.  We have been building tools for the microjoining industry for over twenty years. We build tools equivalent to all the Miyachi Unitek thermodes, as well as Nippon Avionics Co., Ltd (Avio), and several others. We are the industry leading manufacturer for thermodes used in all resistance reflow soldering applications. AIT has spent many years refining manufacturing techniques for optimum quality and efficiency. If you are trying to cut costs and find affordable thermodes, call us today.
SLD-19 Hot-bar with AIT Self Leveling Adaptor Head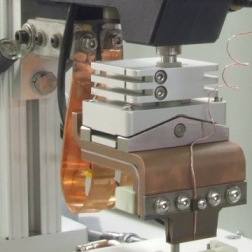 Resistance Reflow Soldering is a hot bar bonding process ( thermocompression bonding) in which heat is produced by passing an electrical current through either the parts which are to be soldered or through a thermode (reflow soldering tip) which heats the parts by conduction. The amount of heat produced and the force applied by the thermode are carefully controlled. The solder required at the joint is applied, in controlled amounts, in the form of solder paste, solder pre-forms, or by reflowing the solder on pre-tinned parts. Flux or a cover gas is generally required for production line resistance reflow soldering, although some users report acceptable results without using either.

AIT has been the industry leading manufacturer of resistance reflow soldering thermodes and hot bars for the thermocompression bonding industry for many years now. Many customers find AIT because they are trying to save cost on consumable tooling, without sacrificing quality. AIT utilizes a full climate controlled inspection department to insure high quality tools.  We market a product line of resistance reflow soldering tools and welding electrodes, but still over 50% of our business is in custom designed tools for thermocompression bonding applications.

We often manufacture custom tools as affordably as our standard product line. AIT helped develop many of the current tool designs used today. Our experience in design and development of resistance reflow soldering tools is extensive, and is often helpful to customers developing a process for special applications.

If you don't see what you need on our website, call us today and request a quote. We can build to your specifications and designs, or we can design a resistance reflow soldering thermode for your application. There is virtually no limit to the solutions we can provide to you. If you are tired of paying high prices for resistance reflow soldering thermodes, call us today and request a quote. No matter what application you have, we can provide the tools you need at a price you can afford.
AIT-UNITEK-HUGHES-MICROJOIN-AVIO-THERMODE PART NUMBER CROSS REFERRENCE CHART
| | |
| --- | --- |
| AIT PART NUMBER | UNITEK |
| SLD-1-W-C.070D.020E.060-J9-O | 17P20 |
| SLD-1-W-C.070D.040E.060-J9-O | 17P40 |
| SLD-1-W-C.200D.050E.060-J9-O | 17P50 |
| SLD-1-W-C.070D.075E.080-J9-O | 17P75 |
| SLD-1-W-C.250D.093E.080-J9-O | 17P93 |
| SLD-1-W-C.070D.020F.093G.060-J9-O | 17P20 substitute |
| SLD-1-W-C.070D.040F.093G.060-J9-O | 17P40 substitute |
| SLD-1-W-C.200D.050F.093G.060-J9-O | 17P50 substitute |
| SLD-1-W-C.070D.075F.093G.080-J9-O | 17P75 substitute |
| SLD-1-W-C.250D.093F.093G.080-J9-O | 17P93 substitute |
| | |
| --- | --- |
| AIT PART NUMBER | HUGHES / MICROJOIN |
| SLD-2a-W-F.002W.005L.905-E9-S | EWB-25M |
| SLD-2a-W-F.004W.008L.905-E9-S | EWB-48M |
| SLD-2a-W-F.004W.008L.945-E9-S | EWB-48MA |
| SLD-2a-W-F.010W.013L.905-E9-S | EWB-1013-C01 |
| SLD-2a-W-F.020W.010L.945-E9-S | EWB-25M-TC |
| SLD-2a-W-F.015W.015L.905-E9-S | EWB-48M-TC |
| SLD-2a-W-F.018W.018L.905-E9-S | EWB-1515-TC |
| SLD-2a-W-F.033W.035L.905-E9-S | EWB-2525-TC |
| SLD-2a-W-F.025W.025L.905-E9-S | EWB-2020-TC |
| SLD-2a-W-F.020W.020L.905-E9-S | EWB-1016-TC |
| SLD-2a-W-F.010W.016L.905-E9-S | EWB-1515  |
| SLD-2a-W-F.010W.010L.905-E9-S | EWB-1013-TC |
| SLD-2a-W-F.005W.005L.905-E9-S | EWB-1220-TC |
| | | |
| --- | --- | --- |
| AIT PART NUMBER | UNITEK | HUGHES / MICROJOIN |
| SLD-5-In-A.250B.075-J9-O | 17F250 |   |
| SLD-5-In-A.350B.075-J9-O | 17F350 |   |
| SLD-5-In-A.380B.075-J9-O | 17F380 |   |
| SLD-5-In-A.550B.075-J9-O | 17F550 |   |
| SLD-5-In-A.630B.075-J9-O | 17F630 |   |
| SLD-5-In-A.750B.075-J9-O | 17F750 |   |
| SLD-5-In-A1.000B.075-J9-O | 17F1000 |   |
| SLD-5-In-A.375B.075-E9-S |   | MLS-375-F-TC |
| SLD-5-In-A.400B.075-E9-S |   | MLS-400-F-TC |
| SLD-5-In-A.500B.075-E9-S |   | MLS-500-F-TC |
| SLD-5-In-A.600B.075-E9-S |   | MLS-600-F-TC |
| SLD-5-In-A.700B.075-E9-S |   | MLS-700-F-TC |
| SLD-5-In-A.800B.075-E9-S |   | MLS-800-F-TC |
| SLD-5-In-A.900B.075-E9-S |   | MLS-900-F-TC |
| SLD-5-In-A1.00B.075-E9-S |   | MLS-1.00-F-TC |
| SLD-5-In-A.375B.125-E9-S |   | MLS-375-F-125H-TC |
| SLD-5-In-A.400B.125-E9-S |   | MLS-400-F-125H-TC |
| SLD-5-In-A.500B.125-E9-S |   | MLS-500-F-125H-TC |
| SLD-5-In-A.600B.125-E9-S |   | MLS-600-F-125H-TC |
| SLD-5-In-A.700B.125-E9-S |   | MLS-700-F-125H-TC |
| SLD-5-In-A.800B.125-E9-S |   | MLS-800-F-125H-TC |
| SLD-5-In-A.900B.125-E9-S |   | MLS-900-F-125H-TC |
| SLD-5-In-A1.00B.125-E9-S |   | MLS-1.00-F-125H-TC |
| | |
| --- | --- |
| AIT PART NUMBER | HUGHES / MICROJOIN |
| SLD-7-M-A.375B.03C.05-E9-S | MLS-375-TC |
| SLD-7-M-A.400B.03C.120-E9-S | MLS-400-TC |
| SLD-7-M-A.500B.03C.120-E9-S | MLS-500-TC |
| SLD-7-M-A600B.03C.120-E9-S | MLS-600-TC |
| SLD-7-M-A.700B.03C.120-E9-S | MLS-700-TC |
| SLD-7-M-A.800B.03C.120-E9-S | MLS-800-TC |
| SLD-7-M-A.900B.03C.120-E9-S | MLS-900-TC |
| SLD-7-M-A1.0B.03C.120-E9-S | MLS-1000-TC |
| SLD-7-M-A1.1B.03C.260-E9-S | MLS-1100-TC |
| SLD-7-M-A1.2B.03C.260-E9-S | MLS-1200-TC |
| SLD-7-M-A1.3B.03C.260-E9-S | MLS-1300-TC |
| SLD-7-M-A1.8B.03C.260-E9-S | MLS-1800-TC |
| | |
| --- | --- |
| AIT PART NUMBER | UNITEK |
| SLD-10-M -A.075B.030-J9-O | 17BM070 |
| SLD-10-M -A.220B.030-J9-O | 17BM180 |
| SLD-10-M -A.400B.030-J9-O | 17BM360 |
| SLD-10-M -A.810B.030-J9-O | 17BM770 |
| SLD-10-M -A.870B.030-J9-O | 17BM870/30 |
| SLD-10-M -A1.00B.030-J9-O | 17BM1000 |
| | |
| --- | --- |
| AIT PART NUMBER | UNITEK |
| SLD-1a-W-A.008B.010C.03E.063-J9-O | 17T08/10 |
| SLD-1a-W-A.008B.025C.03E.063-J9-O | 17T085/25 |
| SLD-1a-W-A.008B.010C.03F.063G.093-J9-O | 17T08/10 substitute |
| SLD-1a-W-A.008B.025C.03F.063G.093-J9-O | 17T085/25 substitute |
| | |
| --- | --- |
| AIT PART NUMBER | UNITEK |
| SLD-3-W-C.070D.020E.060-J9-O | 17P20 |
| SLD-3-W-C.070D.040E.060-J9-O | 17P40 |
| SLD-3-W-C.200D.050E.060-J9-O | 17P50 |
| SLD-3-W-C.070D.075E.080-J9-O | 17P75 |
| SLD-3-W-C.250D.093E.080-J9-O | 17P93 |
| | |
| --- | --- |
| AIT PART NUMBER | AVIO |
| SLD-6-M-A1.0B0.8C1.0-E9-L | HT-08-1 |
| SLD-6-M-A2.0B1.6C1.0-E9-L | HT-16-2 |
| SLD-6-M-A3.0B2.4C1.0-E9-L | HT-24-3 |
| SLD-6-M-A4.0B1.6C6.5-E9-L | HT-16-4 |
| SLD-6-M-A6.0B1.6C6.5-E9-L | HT-16-6 |
| SLD-6-M-A8.0B1.6C6.5-E9-L | HT-16-8 |
| SLD-6-M-A10.0B1.6C6.5-E9-L | HT-16-10 |
| SLD-6-M-A12.0B1.6C15-E9-L | HT-16-12 |
| | |
| --- | --- |
| AIT PART NUMBER | HUGHES / MICROJOIN |
| SLD-7a-In-A.035B.032C.062-E9-S | ERS-32-35 |
| SLD-7a-In-A.055B.032C.062-E9-S | ERS-32-55 |
| SLD-7a-In-A.075B.032C.062-E9-S | ERS-32-75 |
| SLD-7a-In-A.100B.032C.062-E9-S | ERS-32-100 |
| SLD-7a-In-A.125B.032C.062-E9-S | ERS-32-125 |
| SLD-7a-In-A.055B.055C.062-E9-S | ERS-55-55 |
| SLD-7a-In-A.075B.055C.062-E9-S | ERS-55-75 |
| SLD-7a-In-A.090B.055C.062-E9-S | ERS-55-90 |
| SLD-7a-In-A.125B.055C.062-E9-S | ERS-55-125 |
| SLD-7a-In-A.075B.075C.062-E9-S | ERS-75-75 |
| SLD-7a-In-A.090B.075C.062-E9-S | ERS-75-90 |
| SLD-7a-In-A.125B.075C.062-E9-S | ERS-75-125 |
| SLD-7a-In-A.100B.100C.062-E9-S | ERS-100-100 |
| SLD-7a-In-A.035B.032C.100-E9-S | ERS-32-35-100 |
| SLD-7a-In-A.055B.032C.120-E9-S | ERS-32-55-120 |
| SLD-7a-M-A.032B.035C.062-E9-S | ERS-32-35-TC (YOU CAN'T PUT A T/C ON THIS) |
| | |
| --- | --- |
| AIT PART NUMBER | UNITEK |
| SLD-12-SS-A1.20B.060-J9-O | 17BW1200 |
| SLD-12-SS-A2.187B.060-J9-O | 17BW2187 |
| SLD-12-SS-A2.500B.060-J9-O | 17BW2500 |
| SLD-12-M-A1.20B.060-J9-O |   |
| SLD-12-M-A2.187B.060-J9-O |   |
| SLD-12-M-A2.500B.060-J9-O |   |
| | |
| --- | --- |
| AIT PART NUMBER | UNITEK |
| SLD-14-T-A2.00B.059C.021D.016-K9-0 | 17TDM2000059 |
| SLD-14-T-A2.00B.079C.028D.018-K9-0 | 17TDM2000079 |
| SLD-14-T-A2.00B.098C.035D.022-K9-0 | 17TDM2000098 |
| SLD-14-T-A2.00B.118C.040D.022-K9-0 | 17TDM2000118 |
| SLD-14-T-A2.50B.059C.021D.016-K9-0 | 17TDM2500059 |
| SLD-14-T-A2.50B.079C.028D.018-K9-0 | 17TDM2500079 |
| SLD-14-T-A2.50B.098C.035D.022-K9-0 | 17TDM2500098 |
| SLD-14-T-A2.50B.118C.040D.022-K9-0 | 17TDM2500118 |
| | |
| --- | --- |
| AIT PART NUMBER | HUGHES / MICROJOIN |
| SLD-15-W-A.0010B.0030-E9-S | EBB-07-15 |
| SLD-15-W-A.0010B.0052-E9-S | EBB-07-03 |
| SLD-15-W-A.0015B.0045-E9-S | EBB-1-15 |
| SLD-15-W-A.0020B.0060-E9-S | EBB-15-15 |
| SLD-15-W-A.0030B.0090-E9-S | EBB-2-15 |
| SLD-15-W-A.0045B.0135-E9-S | EBB-3-15 |
| SLD-15-W-A.0050B.0150-E9-S | EBB-35-15 |
| SLD-15-W-A.0059B.0175-E9-S | EBB-36-15 |
| SLD-15-W-A.0070B.0210-E9-S | EBB-5-15 |
| | |
| --- | --- |
| AIT PART NUMBER | AVIO |
| SLD-18-M-A15B1.6C7-E9-L | HT-16-15 |
| SLD-18-M-A20B1.6C7-E9-L | HT-16-20 |
| SLD-18-M-A25B1.6C7-E9-L | HT-16-25 |
| SLD-18-M-A30B1.6C7-E9-L | HT-16-30 |
| SLD-18-M-A35B1.6C7-E9-L | HT-16-35 |
| SLD-18-M-A40B1.6C7-E9-L | HT-16-40 |