TCW-315 Hot Bar Soldering Power Supply
The Best Seller Power Supply Unit Suitable for Soldering, Thermo-Compression Bonding and Heat-Fusing!
Pulse Heat Power Supply
General Purpose Type
TCW-315
High Reliability Joining: Becuause heating and cooling take place while the pressure is being applied, the work position will not be shifted during joining.
Variable Temperature Profile: Because the heating is local and instantaneous, thermal impact to the peripheral components is restrained.
High Reprodicibility: Digital PID control enables good reproducitbility of temperature and time. As a result, no skill of the operator is required.
Pb Free Compatible: Pb free solder is accomodated by setting to high temperature and long heating time.
User Interface: RS-232C&I/O is standard equipped, making the unit easy to be connected to external equipment such as incorporationg into an automated system.
Ample Monitoring Functions: Temperature Monitoring: Upper and Lower limit (average peak), Profile Detection Error: Over-Heat, Thermocouple Disconnection, etc.
Other Standard Functions: Number of stored settings: 15, Head vertical and cooling air control signal, Auxiliary thermocouple input, Counter function.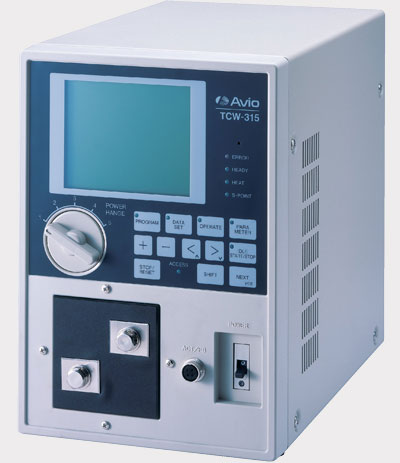 Features

TCW-315

Heating Temp.

Room temp~600°C/1°C step E, J-type

Room temp~900°C K-type (Option)

Heating Time

000-999(x100ms, x10ms)

Rating Power

750VA

Transformer

Built-In

Tap Voltage

 0.88 V, 1.24 V, 1.75 V, 2.47 V, 3.5 V

Power Source
1Φ, AC200-230V±10%, (AC100-115V: option)
Dimensions(mm)


200x320x283

Weight

19.5kg
Select a head having a force suitable to the object to be joined and suitable to the heater tip/heater tool to be used.
Select the size and shape suitable to the object to be joined. If necessary, it can be machined for custom shape. A material to which the solder will not stick, easy to heat, and with a high resistance value is used.