Battery Tab Welder
Provide you with Battery Tab Welders with Advanced Welding Functions as well as low cost solutions.
Welders designed for superior battery tab welding
Lower prices on equipment and electrodes than other manufacturers
Shorter lead time, especially on electrodes
Free test welds and unparalleled customer support
Parallel Gap Spot Welding
How We Can Help You
Advanced Integrated Technologies ( AIT ) offers you free test welds to help determine if an inverter welder is the proper equipment for your application.  We are a equipment and technical support provider for
Nippon Avionics ( Avio )
brand of precision inverter welders.  At AIT, we have chosen the AVIO line of equipment because you get more advanced technology, quality, and precision for your money than with other popular brands.  We can provide the equipment you need at an economical price, and assist with any technical issues you encounter setting up your welding process.  
Submit a contact form or call us today
to request assistance with your next project.
Click here for matching weld heads.
AVIO Battery Tab Welder.
Designed for series welding of battery tabs without damaging battery cells
Fast rising time equaling less thermal damage
Polarity switch function leading to uniform welds and longer electrode life
4 pulse wave form with pre-weld
Automatic weld stop function to preven over energy welds
LCD graph of welding wave form
Click here for matching weld heads.
Features
Specifications
Welding Power Supply
NRW-PS300
Welding Transformer
NT-PS300
Control Method
IGBT Control (Polarity Switch)
Secondary Short-Circuit Current
8000A
Maximum Output Power
300ws
Setting Range
Weld Time
total 0.0 - 60.0ms
Transformer Tap
2.5V, 5.0V, 7.1V, 10.0V
Number of Condition
63
Monitoring
V, I, W, R (Average, Peak)

 

ws (phase shift)
I/O Interface
I/O Connector (50pin), EXT_I/O (12pin)
Communication
RS232C
Power Source
380-415V AC

 

+/-10%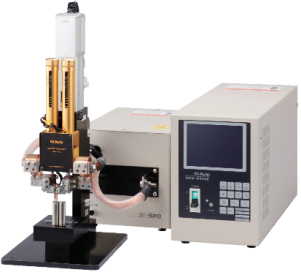 Effect of Polarity Switch Function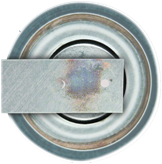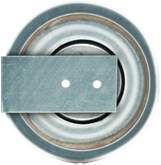 Various welding modes for stable welding
Example of 4 pulse welding schedule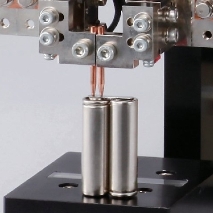 Transformer NT-PS300 & Power Supply NRW-PS300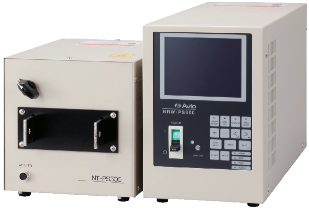 Graphic Display of Welding Wave Form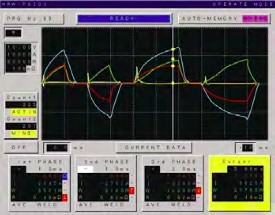 Other Transformer Options
Features
NT-PS1500
NT-PS1500H
Secondary Short-Circuit Current
8000A
8000A
Maximum Output Power
1500 ws
1500 ws
Transformer Tap
2.5V, 5.0V, 7.1V, 10.0V
10.0V, 14.1V, 20.0V, 28.3V
Weight
52kG
53kG